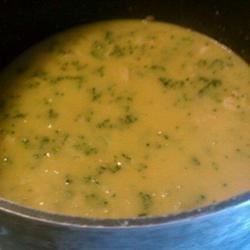 CHICKEN DIVAN SOUP
Souplantation Copycat Recipe
Makes 12 Cups
2 tablespoons butter
1 medium sweet onion, chopped
1 garlic clove, chopped
1/4 teaspoon dried crushed red pepper
1 (48 oz.) container chicken broth
2 (12 oz.) packages fresh broccoli florets (about 12 cups)
1 (8 oz.) package cream cheese, cut into cubes
4 cups chopped cooked chicken
1 (8 oz.) block sharp Cheddar cheese, shredded
salt and pepper to taste
Melt butter in a Dutch oven over medium high heat; add onion, and saute 5 to 6 minutes or until tender. Add garlic and red pepper, and cook 2 minutes. Stir in chicken broth and broccoli. Cover and bring to a boil. Reduce heat to medium, and cook 10 to 15 minutes or until broccoli is tender. Stir in cream cheese.
Process mixture with a handheld blender until smooth. Add chicken and shredded cheese. Cook, stirring occasionally, 5 minutes or until cheese is melted. Season with salt and pepper to taste. Serve immediately with almonds, if desired.
Note: If you don't have a handheld immersion blender, let mixture cool slightly; process mixture, in batches, in a regular blender until smooth, stopping to scrape down sides as needed. Return mixture to Dutch oven, and proceed as directed.